June 28 is the anniversary of two days that might be said to mark the beginning and end of the First World War. It's the anniversary of the
assassination of Archduke Franz Ferdinand
(
wiki
) of Austria and his wife - heirs to the Austrian throne - by Serbian radical
Gavrilo Princip
on June 28, 1914, the proximate cause of the beginning of the war. If you're interested in further information on the subject there are
hundreds of books
and
films
- the best books I know of (and I'm no expert) are Barbara Tuchman's
The Guns of August
(this won a Pulitzer back when they meant something) and John Keegan's
The First World War.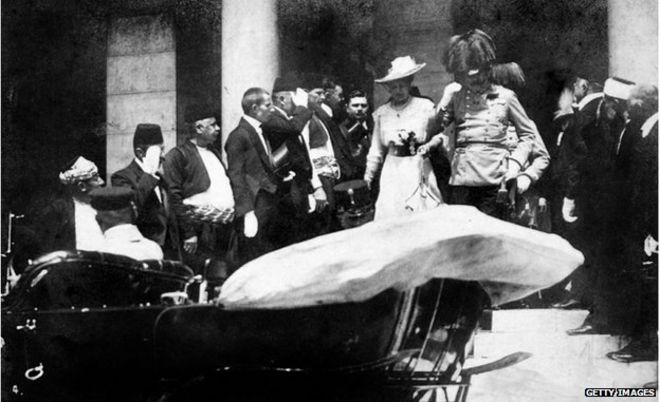 Franz Ferdinand and his wife Sophie at Sarajevo - The German caption
says, "Leaving the town hall, 5 minutes before the assassination":
On the same date in 1919, five years later, the peace treaty that ended the war was signed in the Hall of Mirrors at Versailles. In the interim, ten million died, twice that number were wounded, and Europe's late-19th-century faith in the inevitability of progress and human betterment was destroyed. On hearing the terms of the
Versailles Treaty
(
wiki
), Germany's much-maligned
Kaiser Wilhelm II
noted from exile that,
"The war to end war has resulted in a peace to end peace,"
and France's
Marshall Ferdinand Foch
observed,
"This is not peace; it is an armistice for twenty years."
They were right.
God grant we may not have a European war thrust upon us, and for such a stupid reason too, no I don't mean stupid, but to have to go to war on account of tiresome Servia beggars belief.
~ Mary, Queen-Consort of England's George V (letter to her aunt, Princess Augusta of Mecklenburg-Strelitz, 28 July 1914)
The lamps are going out all over Europe; we shall not see them lit again in our lifetime.
~ Sir Edward Grey (remark, 3 August 1914, on the eve of Britain's declaration of war)
The War was decided in the first twenty days of fighting, and all that happened afterwards consisted of battles which, however formidable and devastating, were but desperate and vain appeals against the decision of Fate.
When every autumn people said it could not last through the winter, and when every spring there was still no end in sight, only the hope that out of it all some good would accrue to mankind kept men and nations fighting. When at last it was over, the war had many diverse results and one dominant one transcending all others: disillusion.
This animated map reflects the daily changes over the course of the war:
Here's a 6 minute overview of World War I:
An 8 minute video on The Treaty of Versailles and its consequences:
Previous posts:
Wilfred Owen, the best of the WWI "War Poets", was born 121 years ago today