There are a few Bible verses that refer to loin-girding. I'm not going to track them all down, but here're two:
Job 38:3 Gird up now thy loins like a man; for I will demand of thee, and answer thou me.
Luke 12:35-40 Jesus said to his disciples "Gird your loins and light your lamps and be like servants who await their master's return from a wedding, ready to open immediately when he comes and knocks.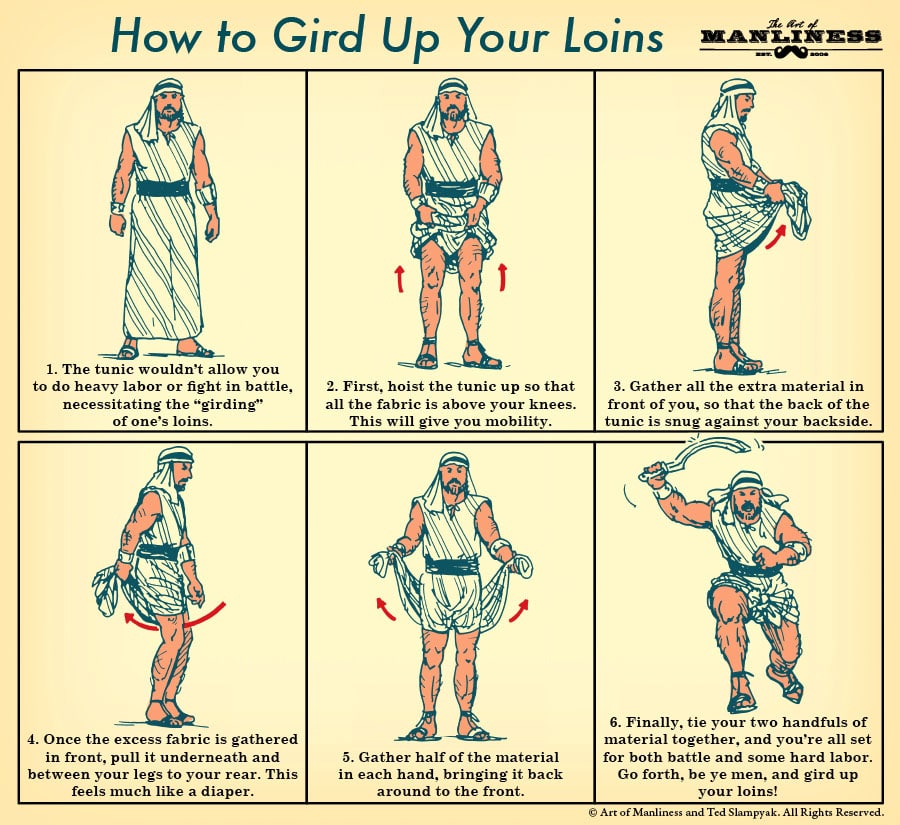 Via
Art of Manliness
:
Back in the days of the ancient Near East, both men and women wore flowing tunics. Around the tunic, they'd wear a belt or girdle. While tunics were comfortable and breezy, the hem of the tunic would often get in the way when a man was fighting or performing hard labor. So when ancient Hebrew men had to battle the Philistines, the men would lift the hem of their tunic up and tuck it into their girdle or tie it in a knot to keep it off the ground. The effect basically created a pair of shorts that provided more freedom of movement. Thus to tell someone to "gird up their loins" was to tell them to get ready for hard work or battle. It was the ancient way of saying "man up!"
In case tunics ever come back in style, you'll now know how to gird up your loins and get ready for action.
Here's a brief video which covers the basics:
Related posts: