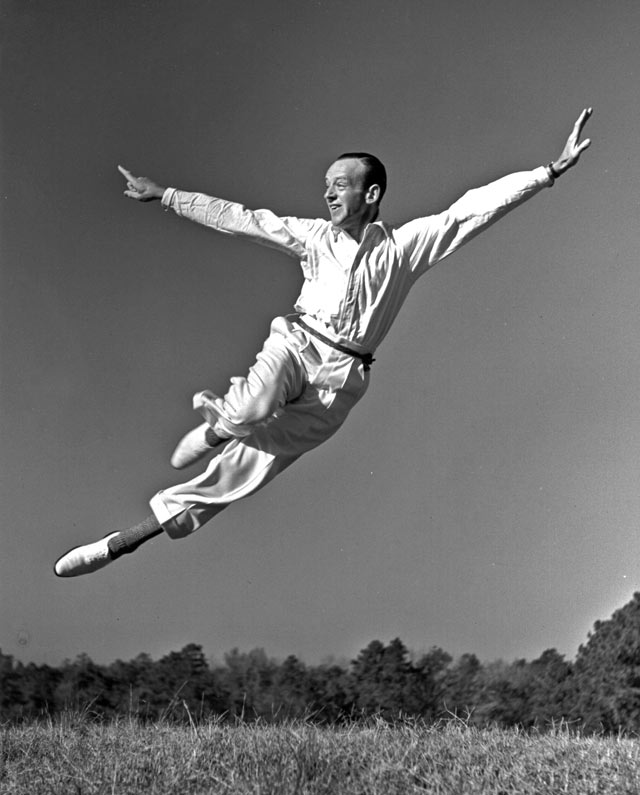 Today is the anniversary of the birth of the legendary American dancer extraordinaire,
Fred Astaire
(
wiki
) (1899-1987), in Omaha, Nebraska. Born Fred Austerlitz, Astaire made his vaudeville debut with his sister, Adele, at the age of five; by the 1920s, they were dancing on Broadway and in London.*
After Adele's marriage in 1932, his search for a new partner led him to Hollywood, where he teamed up with Ginger Rogers for ten classic song-and-dance films, including
Top Hat (1935) and Shall We Dance? (1937)
. Cool, sophisticated, and rakishly elegant, Astaire gave the illusion of effortless ease to the most technically exacting routines, notably with subsequent partners like Cyd Charisse (in
Band Wagon
, 1953). His remarkable potential was not always obvious - early in his Hollywood career, a casting director (who must have been drunk) famously wrote,
"Balding. Can't act. Can dance a little."
Astaire fundamentally changed the way dance was portrayed on film. Utilizing extended takes, Astaire, whether solo or with a partner, performed uninterrupted, intricate dance sequences that kept audiences captivated for decades.
Top Hat (1935):
Swing Time (1936):
Too Hot To Handle:
Related:
Here's an excellent compilation of
Rita Hayworth
dancing (much of the time with Astaire), set to
Stayin' Alive: