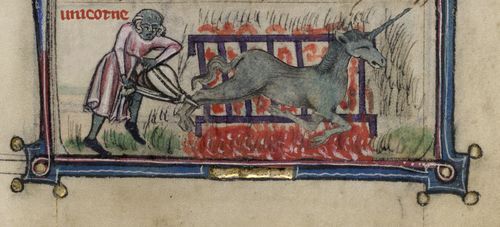 (Image: Geoffrey Fule's Cookbook, British Library)
The British Library recently discovered a Fourteenth Century English cookbook written by Geoffrey Fule, a royal cook. Fule included a recipe for unicorn meat.
The recipe calls for the beast to be marinaded in cloves and garlic, and then roasted on a griddle. The cookbook's compiler, doubtless Geoffrey Fule himself, added pictures in its margins, depicting the unicorn being prepared and then served. Sarah J Biggs, a British Library expert on medieval decoration, commented that "the images are extraordinary, almost exactly as we'd expect them to be, if not better".
At the link, you can see additional illustrations of the unicorn preparation process.