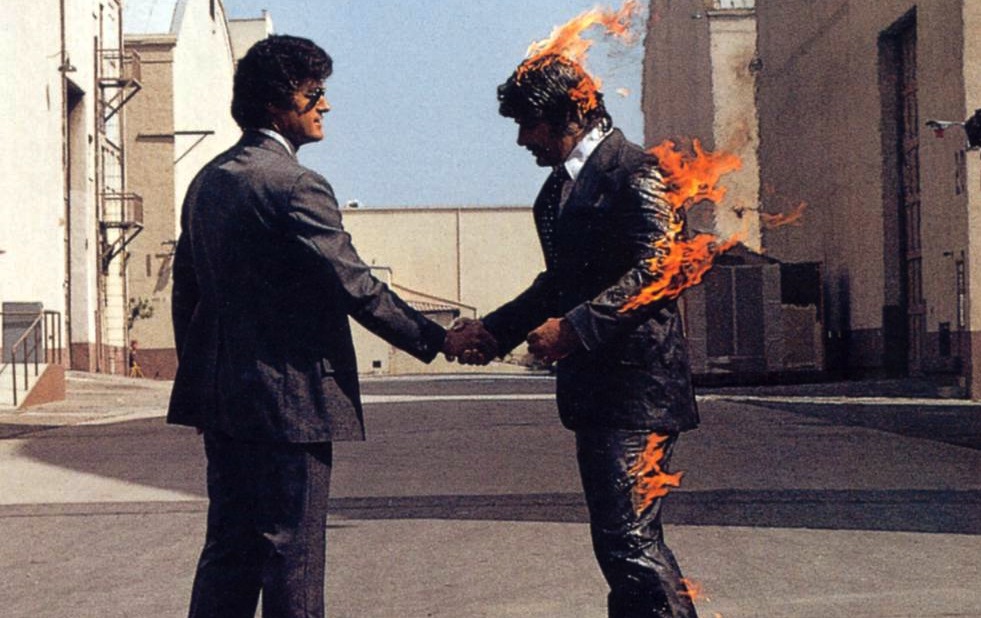 The
Pink Floyd
(
wiki
) album
Wish You Were Here
(
wiki
), released in September 1975, was the follow up album to
The Dark Side Of The Moon.
The
full remastered version below
.
It's cited by many fans, as well as band members Richard Wright and David Gilmour, as their favorite Pink Floyd album. The album, the song by the same name, and, specifically, the song
Shine On You Crazy Diamond
(here's band member David Gilmour performing a
live version of all nine parts with Crosby and Nash
) was written as a tribute to former/founding Pink Floyd member
Syd Barrett
, who left the group in 1968, had a brief solo career, and then lived in seclusion until his death in 2006.
The BBC produced, in 2012,
a program telling the story of
"the making of this landmark release through new interviews with Roger Waters, David Gilmour and Nick Mason and archive interviews with the late Richard Wright. Also featured are sleeve designer Storm Thorgerson, guest vocalist Roy Harper, front cover "burning man" Ronnie Rondell and others involved in the creation of the album. In addition, original recording engineer Brian Humphries revisits the master tapes at Abbey Road Studios to illustrate aspects of the songs' construction." The video is below, but if you buy the DVD you apparently get a bunch of extra footage.
Remastered song Wish You Were Here:



Remastered full album:



Here's the trailer for the BBC "Story of" program - full program is beneath it:
The full "Story Of":
Bonus: here's a long-lost, recently-rediscovered version of the title song featuring a solo from the French "Grandfather of Jazz Violinists"
Stéphane Grappelli
. If for some reason you don't want to hear the whole thing, the violin part starts at ~ 3:08:
Here's the story of how a missing piano track was re-added during the remastering:
More on the missing piano
here
.
Previous posts:
Pink Floyd fans, here's a nightmare for you:
video of a disco version of Comfortably Numb
.
Roger Waters conducting a
Kids Rehearsal for Another Brick in the Wall
.