Epic Rap Battles of History — Nikola Tesla vs Thomas Edison:
Wardenclyffe
, Tesla's Long Island estate
, was originally intended to be "a vector for trans-Atlantic wireless communications, broadcasting, and wireless power. The site consisted of an (incomplete) 18-story-high transmission tower that topped off a laboratory surrounded by 16 acres of land in Shoreham, Long Island in 1903.
By 1917, Tesla had sold the site for $20,000 to pay bills at the Waldorf. That same year, the transmission tower was blown up by the buyers and sold for scrap.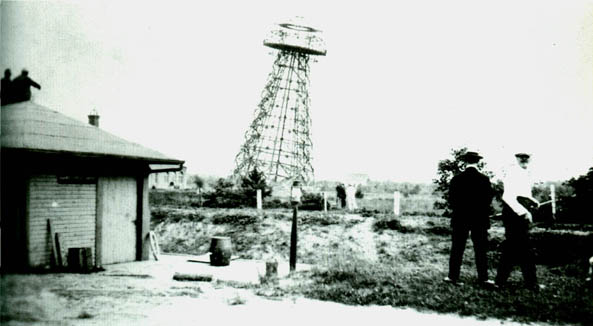 In 2013 it was
purchased by a non-profit for the purpose of building a Tesla museum
,
with the help a fund-raining effort from The Oatmeal
.
Here's an NPR story on the purchase
. More on Wardenclyffe and the likely methods employed in its operation
here
.
July 9 is the anniversary of the birth of Serbian-American electrical-engineering genius and futurist
Nikola Tesla
(1856-1943) (
wiki
), to a Serbian-Orthodox priest in Croatia. Tesla displayed remarkable intuition for mechanical and electrical phenomena while still a youth, and although he studied physics sporadically in Graz and Prague, he was largely self-taught in scientific and engineering subjects.
In 1881. he began working at the Budapest Telephone Exchange as a technician, but within a year he transferred to an Edison subsidiary in France, designing electrical equipment. Two years later, he relocated to New York City, where he worked directly for Thomas Edison but resigned several years later in a dispute over pay.
Subsequently, Tesla moved out on his own, eventually forming a company to commercialize his own inventions for the improvement of electric motors and generators operating largely on alternating current (vice Edison's direct current). Most importantly, he invented the concept of polyphase alternating-current power systems and the AC induction motor, which used a rotating magnetic field to propel the rotor.
In 1888, Tesla licensed his patents to
George Westinghouse
, who used them to devise alternating-current alternatives to Edison's DC systems for generating and distributing electrical power, and eventually alternating current prevailed as the national standard.*
In 1891, Tesla became an American citizen and established his own laboratory in New York City to work on a wide variety of electrical developments, including X-ray technology, radio, and high-voltage/high-frequency apparatus. Among the latter was the "Tesla coil," a device for developing extremely high voltages and creating spectacular displays of artificial lightning.
In 1899, he moved his operations to Colorado Springs and concentrated on devising a system for the wireless transmission of electrical power through the atmosphere (but never realized it at a practical level). He also developed concepts for vertical takeoff/landing aircraft, remote controlled vehicles, and an early directed energy weapon. He ultimately received nearly 300 patents for his discoveries.
Since Tesla had sold his most lucrative patents to Westinghouse and plowed what money he earned later into further experimentation, he died in relative poverty in 1943. Although vastly overshadowed by Edison in the popular imagination, it was Tesla who was primarily responsible for the concepts underlying the electrical power grids used world-wide today.
*The great advantage of alternating over direct current in power distribution is that the former can make use of transformers to step the voltage up and down, and high voltage is much more efficient for sending electrical power over long distances.