From
Male Character Costumes, a Guide to Gentlemen's Costume Suitable for Fancy Dress Balls and Private Theatricals
, an 1884 costume guide available for
free on Google Books
.
Mental Floss
has posted a few more.
"Doublet of velvet, cut square at the throat, and filled in with a plaiting of muslin. The sleeves are full in the upper part, slashed with white silk, and formed into a double puff, fitting close on the forearm. The trunks are of velvet, slashed white. Long hose of lavender silk. Velvet cloak, lined with silk. Soft velvet hat, trimmed with a feather. Velvet sword belt, embroidered with gold."
"Blue cloth coat faced with wide revers of white, edged round with buttons. The skirt of the coat is cut away from the front. White silk vest and leather breeches. Hugh Leather boots. Gold epaulets. Sword handle and spurs. Brilliant star on the breast."
"Doublet of scarlet satin, slashed trunks to match. Scarlet silk tights. Scarlet cape, short, with a high collar. Cape forming a point in front, with two scarlet feathers." Here's everything you need to know about
Mephistopheles
in case someone asks about your costume.
"Buff jerkin of leather with a deep steel collar. Knickerbockers. Jack boots. Long clock. Wide-brimmed beaver hat. Sword and belt."
"Leather doublet fastened round the waist with a broad belt. Brown cloth sleeves, and hanging sleeves to match trimmed with braid. Roll epaulet. Trunks of cloth striped with broad braid. High leather boots reaching to the trunks. White linen collar."
For the ladies, here's what Batgirl would've looked like in the 1880s, from
the 1887 edition
of
La mode illustrée
,
Journal de la Famille
and an 1882 copy of the German publication
Fliegende Blätter
, respectively.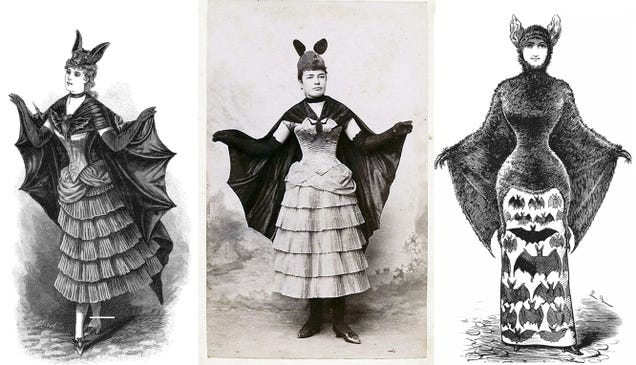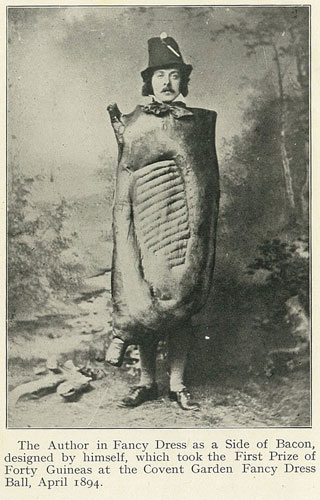 And a 1931 photo of NYC architects dressed up as their buildings. That's William Van Alen, architect of the Chrysler Building, in the center; Ely Jacques Kahn, who designed the Squibb Building, to the left; and Ralph Walker, designer of One Wall Street, to the right. More photos here.
The above is a detail from this larger photo: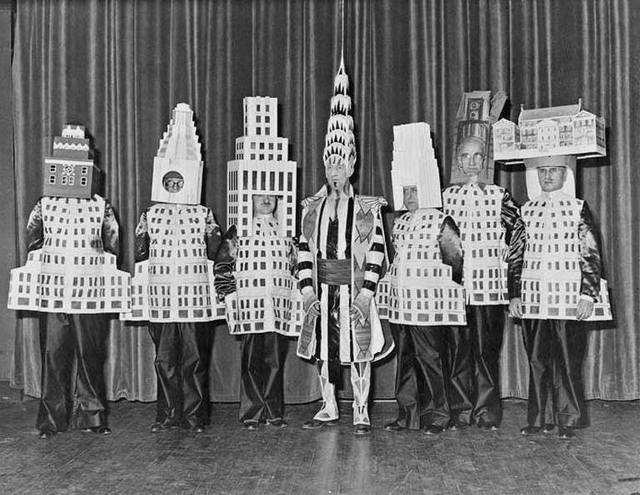 The Beaux Arts Architectural Society has put on some pretty lavish parties—a Napoleonic pageant, a Renaissance romp, "Venice Through the Ages"—but none approached the epic quality of its 1931 spectacle. Located at the Hotel Astor in NYC, "Fête Moderne - a Fantasie in Flame and Silver" included a robot puppet show, ballerinas dancing to the blues, and, according to the New York Times, an orchestra consisting of machines, steam pipes, ocean liner whistles, and sledgehammers, conducted by Kenneth Murchison. Most memorable, however, were the revelers' outfits: The architects wore replicas of buildings they had designed on their heads.
They also supply this: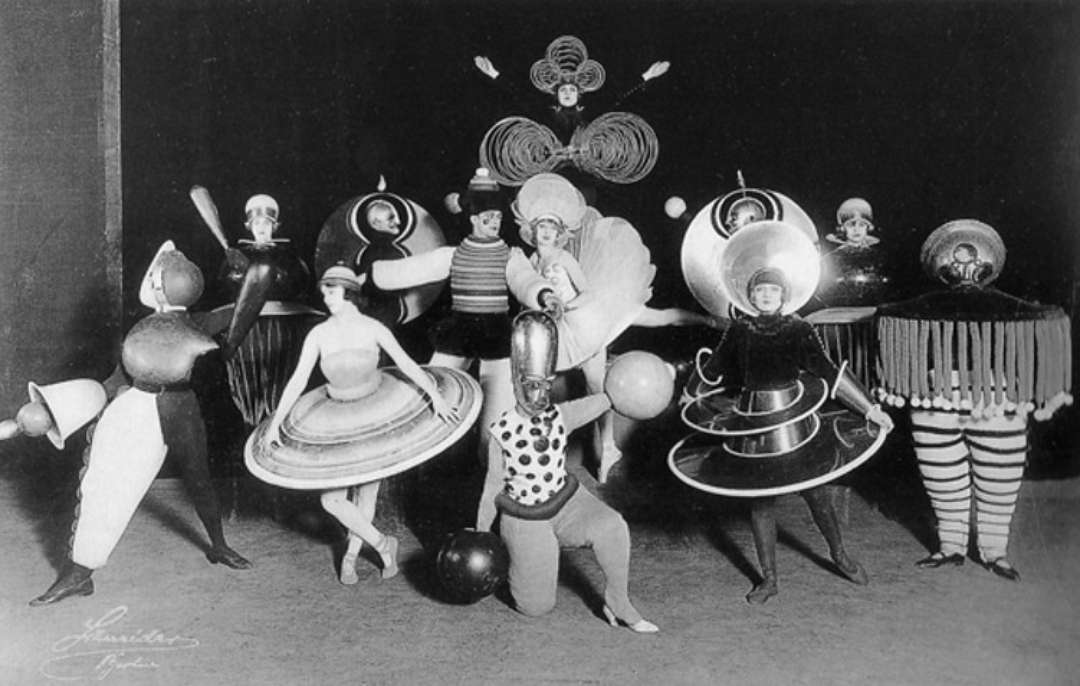 Oskar Sclemmer's Triadic Ballet, 1922
1929 Bauhaus Metallic Festival:
For the Bauhaus, partying was an art. But the school's notorious happenings reached their apex with the Metallic Festival. The guests, dressed in tin foil and adorned with silverware, reached the party rooms through a slide covered with tinplate. The walls were also covered in tinplate, to reflect the revelers as they danced, and silver spheres dangled from the ceiling.