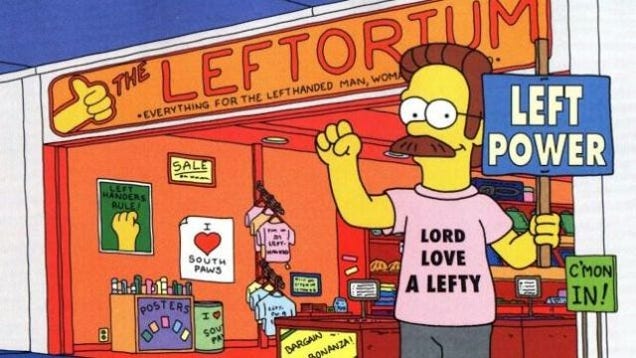 Ned Flander's Left-handed store
The world's favorite yellow-skinned, four-fingered family has had a special place in our hearts ever since it leapt onto our screens in 1987.
But could The Simpsons actually be way ahead of its time? Alltime10s brings you inventions - from smart-watches to sarcasm detectors - that The Simpsons called ahead of everyone.
Previous related posts and links:
Compilation Of
Every Video Game From The Simpsons
28 Funny Products Spotted on The Simpsons
16 Funny Stores and Businesses Spotted on The Simpsons
An archive of
Bart's blackboard writing
, and a
2012 infographic with most of them.
Matt Groening, creator of
The Simpsons
, in
1969 film with sisters Maggie and Lisa, made by his father Homer
.
v
ia
LaughingSquid