Little Rock, AR Facebook member
Jesse Newton
tells his disgusting story of the unfortunate intersection of puppy poop and a
Roomba
in a LOT of detail - excerpts below but
read the whole thing
.
Jesse's map of the Roomba track
Sometime between midnight and 1:30am, our puppy Evie pooped on our rug in the living room. This is the only time she's done this, so it's probably just because we forgot to let her out before we went to bed that night. Now, if you have a detective's mind, you may be wondering how we know the poop occurred between midnight and 1:30am. We were asleep, so how do I know that time frame?
Why, friends, that's because our Roomba runs at 1:30am every night, while we sleep. And it found the poop. And so begins the Pooptastrophe. The poohpocalypse. The pooppening.
Do not, under any circumstances, let your Roomba run over dog poop. If the unthinkable does happen, and your Roomba runs over dog poop, stop it immediately and do not let it continue the cleaning cycle. Because if that happens, it will spread the dog poop over every conceivable surface within its reach, resulting in a home that closely resembles a Jackson Pollock poop painting.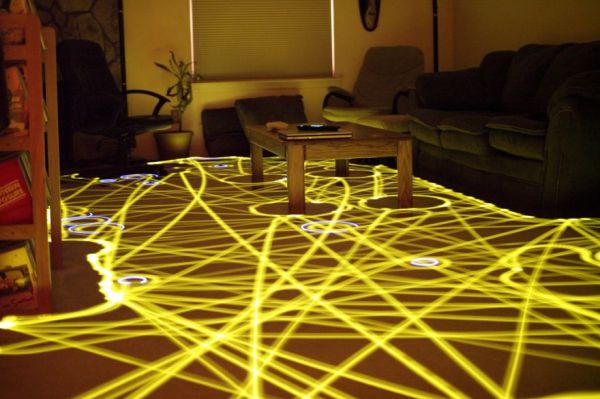 It will be on your floorboards. It will be on your furniture legs. It will be on your carpets. It will be on your rugs. It will be on your kids' toy boxes. If it's near the floor, it will have poop on it. Those awesome wheels, which have a checkered surface for better traction, left 25-foot poop trails all over the house.
Then, when your four-year-old gets up at 3am to crawl into your bed, you'll wonder why he smells like dog poop. And you'll walk into the living room. And you'll wonder why the floor feels slightly gritty. And you'll see a brown-encrusted, vaguely Roomba-shaped thing sitting in the middle of the floor with a glowing green light, like everything's okay. Like it's proud of itself. You were still half-asleep until this point, but now you wake up pretty damn quickly.
And then the horror. Oh the horror.
So, first you clean the child. You scrub the poop off his feet and put him back in bed. But you don't bother cleaning your own feet, because you know what's coming.