Today is the anniversary of the birth of the greatest of American rock stars,
Elvis Presley
(
wiki
) (1935-1977). Born in Tupelo, Mississippi, Presley was influenced by rhythm-and-blues and country-and-western music and rose to stardom with "
Heartbreak Hotel
" in 1956. It was followed by "
Hound Dog
," "
Love Me Tender
," "
All Shook Up
," and "
Don't Be Cruel
," which firmly established Elvis as "the king of rock and roll," a position he enjoyed until the early 1960s.
He appeared in several motion pictures before being drafted into the army in 1958, serving for over a year in Germany. Even after his career waned and he died of an apparent drug overdose in 1977*, Presley remained an object of adulation for a legion of fans and the inspiration for countless Elvis impersonators and "air-guitar" players.
*
Chronic constipation killed Elvis, claims his doc
:
According to his autopsy, Nichopoulos said, Elvis' colon was 5 to 6 inches in diameter, nearly twice the size of the average person. It was also 8 to 9 feet long, compared with the normal 4 to 5 feet.
"We didn't realize until the autopsy that his constipation was as bad," he said, noting that when he died there was waste in his colon that was several months old.
Here he is performing Hound Dog in 1956:
Related: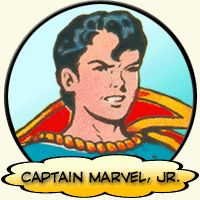 Elvis Does Karate
Who Inspired Elvis Presley's Haircut?
- there is more than one story of the hair inspiration (and probably a combination of factors), but this is interesting - apparently he was a fan of comic books, and his supreme comic book hero was one "Captain Marvel, Jr."
"When I was a child, I was a dreamer. I read comic books and I was the hero."