January 29 is the anniversary of the birth, in 1880, of American film actor and comedian
W. C. Fields
(
wiki
) (1880-1946), born William Claude Duckenfield in Philadelphia. Fields ran away from home at the age of 11 and got his start in vaudeville as a juggler. He made his musical comedy debut on Broadway in 1906, moved on to the Ziegfeld Follies, and appeared in his first silent film in 1915.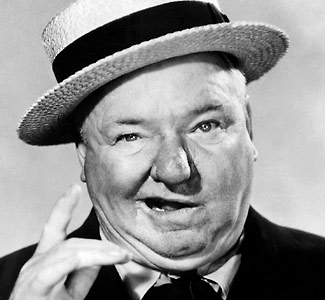 By 1930, he was a staple in Hollywood comedies, playing a series of drunken, misanthropic - and yet wistful - rascals who mirrored his own real-life persona. Fields is perhaps best remembered as starring opposite the inimitable - and bosomy - Mae West (1892-1980) in My Little Chickadee(1940), but it was in The Bank Dick of that same year that he gave his most classic performance. An excellent biography of W. C. Fields by James Curtis appeared in 2003.
In one of his more celebrated remarks, Fields responded to the question of why he never drank water by noting that
"Fish f__k in water."
A selection of quotes:
Never give a sucker an even break.
If at first you don't succeed, try, try again. Than quit. No use being a damn fool about it.
Horse sense is the good judgement which keeps people from betting on horses.
A rich man is nothing but a poor man with money.
There's not a man in America who at one time or another hasn't had a secret desire to boot a child in the ass.
~ W. C. Fields (various attributions)
The funniest thing about comedy is that you never know why people laugh. I know what makes them laugh, but trying to get your hands on the why of it is like trying to pick an eel out of a tub of water.
~ Fields (quoted in Anobile,
A Flask of Fields
)
Much of Fields's humor turned on his legendary alcoholism:
A woman drove me to drink, and I never even had the courtesy to thank her.
I always keep a stimulant handy in case I see a snake - which I also keep handy.
That drink has made a new man of me... He'll have one, too.
Once, during
Prohibition
, I was forced to live for days on nothing but food and water.
I exercise strong self control. I never drink anything stronger than gin before breakfast.
His famous suggestion for an epitaph (June 1925):
Here lies W. C. Fields. I would rather be living in Philadelphia.
He was an isolated person. As a young man, he stretched out his hand to Beauty and Love and they thrust it away. Gradually he reduced reality to exclude all but his work, filling the gaps with alcohol, whose dim eyes transformed the world into a distant view of harmless shadows.
~ Louise Brooks (1906-1985) (on W. C. Fields; quoted in Tynan,
Show People
)
The famous diner scene from
Never Give a Sucker an Even Break
:
If you have more time and interest, here's a "best of" compilation from several of his movies: