You're familiar with the elves, Snap! Crackle! and Pop! Lost in the shuffle, however, was a fourth Rice Krispies elf named Pow! His short life is a time-capsule of an era when everyone was dreaming big.
The history of the three (and for a moment, four) Kellogg's pitch elves begins in 1928 when the cereal first hit shelves and was marketed on radio programs for the way they "merrily snap, crackle and pop in a bowl of milk."
Pow's brief stint overlapped with Kellogg's sponsorship of the television program "
Space Cadet
" with Tom Corbett. Rice Krispies advertisements, like the one below featuring three brothers zipping around on flying saucers, tapped into the culture of the time
.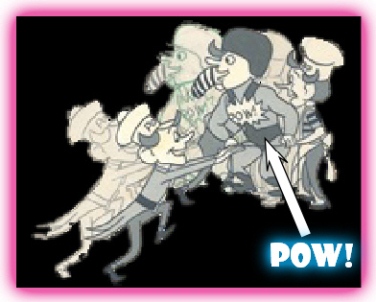 Many questions remain unanswered: Why did they nix the Pow! character? From a marketing perspective, perhaps the original three brothers sounded better in a jingle? And why was he from outer space? Tim Hollis, author of
Part of a Complete Breakfast: Cereal Characters of the Baby Boom Era
, says it was common for children's programs to include space-related characters at the time.
"There's not much to Pow! It's mostly because of the internet that he's even known at all," Hollis says. "He was always just sort of a footnote...and at that particular time, everything was space oriented."
Storyboard from a 1955 ad with Pow!:
Here's a 1939 commercial (not including Pow!): they're all in chef's hats, and are fighting off Soggy, Mushy and Toughy:
Bonus 1963 Rolling Stones Rice Krispies commercial:
From
Wikipedia
, names in other markets:
Denmark - Pif! Paf! Puf!
Finland - Riks! Raks! Poks!
France - Cric! Crac! Croc!
Germany - Knisper! Knasper! Knusper!
Switzerland - Piff! Paff! Poff!
South Africa - Knap! Knaetter! Knak! (Afrikaans)
Quebec - Cric! Crac! Croc!
Mexico - Pim! Pum! Pam!
Related article at Mental Floss:
A Second Helping of Cereal Facts