Scientists at the highly-respected University of Grenoble have
published a report
suggesting that regular consumption of chili peppers may raise levels of the hormone, which is believed to make men more adventurous, enterprising and sexually active.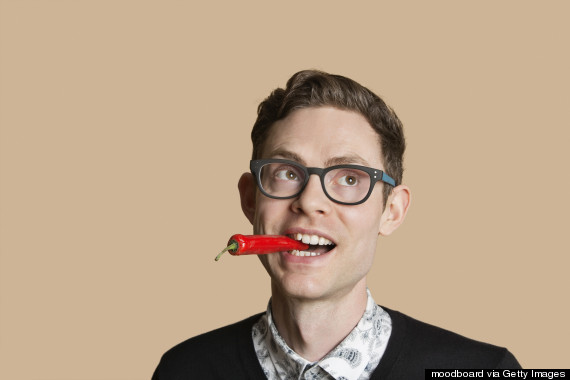 This guy needs to eat a LOT of those peppers.
Laurent Begue, one of the authors of the study, said: "These results are in line with a lot of research showing a link between testosterone and financial, sexual and behavioral risk-taking."
Their testosterone levels were measured from saliva samples and they were presented with a plate of mashed potatoes and invited to add chili sauce to taste. Those who added the most hot sauce had the highest testosterone.
The hormone drives men to seek thrills and new sensations, leading them to frequent "more stimulating social groups and take more risks," according to Professor Begue.
"In this case, it applies to risk-taking in taste," he said. "It is also possible that the regular consumption of spicy food contributes to increasing testosterone levels, although so far this has only been demonstrated on rodents."
Unlike their British counterparts, relatively few have acquired a taste for hot curries. Many see chili as an assault on their taste buds that hinders enjoyment of the subtler, more delicate flavours of classic French cuisine.
They may now start to view spice as a virility test and attempt to prove their manliness by consuming eye-wateringly hot food.
Previous manly posts: