Beer and Brewing has a roundup of pairing suggestions from around the intertubes:
Trefoils with Pearl Necklace Oyster Stout

Do-Si-Dos with Lucky SOB Irish Red Ale

Samoas with Raging Bitch Belgian-Style IPA

Tagalongs with Gonzo Imperial Porter

Thin Mints with Kujo Imperial Coffee Stout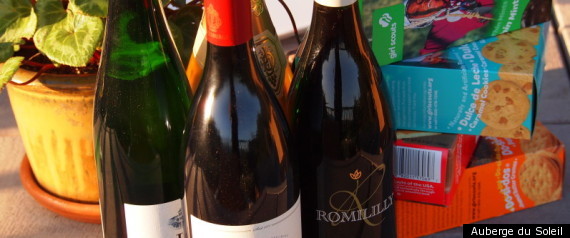 Thin Mints
There are two types of Thin Mints made today, but both combine a wafer, chocolate, and peppermint flavoring. To truly experience the mint & chocolate combination, however, don't reach for the milk – try a Syrah instead.
Samoas (Caramel deLites)
Banyuls is a red
dessert wine
from Southwestern France, which pairs amazingly with the dark chocolate stripes on Samoas. For a Plan B, pick up a Port.
Tagalongs (Peanut Butter Patties)
You're going to see a trend here: when the cookie has chocolate, grab a bottle of red wine. Tagalongs are no different – find a fruity red wine such as Beaujolais or Zinfandel.
Trefoils (Shortbread)

Light and refreshing, a Trefoil shortbread should be paired with Pinot Noir or even Sparkling wine if the mood is right.
Lemonades
When snacking on these shortbread cookies with lemon-flavored icing, grab a buttery Chardonnay like the 2009 Cambria Chardonnay from
Uncorked Ventures
.
Thanks-A-Lot
My personal favorite: shortbread dipped in rich fudge. It's a tough one, as it combines the light shortbread with the chocolatey fudge, but I'll be enjoying mine with a
Pinot Noir from Gold Medal Wine Club
.
Chocolate Chip Shortbread

There is a lot of disagreement about what types of wine pair best with chocolate chip cookies in general. This one comes down to a matter of personal preference on white or red. You could either go with a dark Port or a sparkling white.


Savannah Smiles

These are a lemon-based cookie similar to the Lemonades but covered with powered sugar. Try a Pinot Grigio/Gris.


Cranberry Citrus Crisps

Both sweet and tangy because of the cranberry, a good match for these would be a Viognier or the more popular Riesling.