His eyes - how they twinkled! His dimples: how merry,
His cheeks were like roses, his nose like a cherry;
His droll little mouth was drawn up like a bow,
And the beard of his chin was as white as the snow;
The stump of a pipe he held tight in his teeth,
And the smoke it encircled his head like a wreath.
He had a broad face, and a little round belly
That shook when he laugh'd, like a bowl full of jelly.
The giver of every good and perfect gift has called upon us to mimic God's giving, by grace, through faith, and this is not of ourselves.
~ St. Nicholas of Myra (attributed)
Once again St. Nicholas Day
Has even come to our hideaway;
It won't be quite as fun, I fear,
As the happy day we had last year.
Then we were hopeful, no reason to doubt
That optimism would win the bout,
And by the time this year came round,
We'd all be free, and safe and sound.
Still, let's not forget it's St. Nicholas Day,
Though we've nothing left to give away.
We'll have to find something else to do:
So everyone please look in their shoe!?
Give all thou canst; high Heaven rejects the lore
Of nicely-calculated less or more.
December 6 is the feast day of
Saint Nicholas of Myra
(270-343) (
wiki
), perhaps better known in his latter-day guise as Santa Claus. Born to Greek Christian parents in Palmyra in southern Anatolia, Nicholas was renowned for his great piety at an early age and eventually became the bishop of nearby Myra in what is now Turkey.
St. Nicholas saving the three poor girls and their father
He is known to have attended the Emperor Constantine's First Council of Nicea (325), where he took a strong stand against
Arianism
, but very little else is certain about his life. On the other hand, a rich body of legends has grown up around his name, largely for working many miracles and his life-long propensity for gift-giving.** Most famously, he is said one night to have thrown three small bags of gold through the window of a poor man as doweries for his three daughters, thus saving them from a life of prostitution.*** On another occasion, he abated a fearsome storm at sea, and thus has been adopted as the protector of sailors and fishermen.
In 1087, half of his remains were purloined from Myra by sailors from southern Italy and enshrined in the basilica of San Nicola in Bari, where they remain today, the object of great veneration. (The other half of his bones somehow found their way to Venice.) Generally portrayed with his bishop's robes and regalia, Saint Nicholas is one of the most popular saints in both the Catholic and Orthodox traditions and is regarded as the protector of sailors, children, merchants, pawnbrokers, and students, particularly in Greece, Russia, and eastern Europe.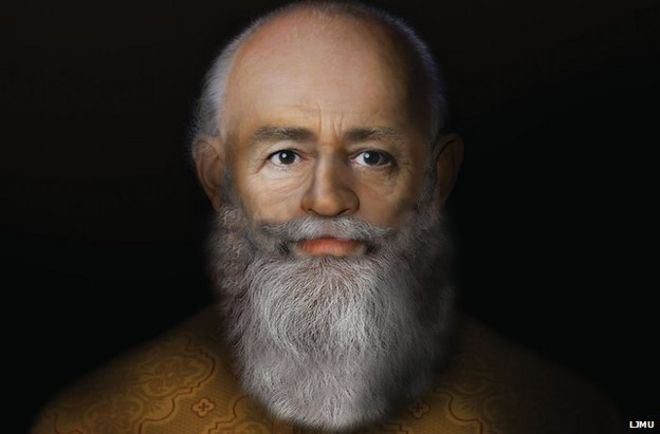 Facial reconstruction
In the 1950s, the bones were removed while the crypt was spruced up. While they were out, the Vatican asked an anatomy professor at the University of Bari to take thousands of minutely detailed measurements and x-rays of the relics. Flash forward to the present day, and another University of Bari expert, forensic pathologist Francesco Introna, decided to commission an expert facial anthropologist, Caroline Wilkinson of the University of Manchester in England, to
reconstruct the saint's face and head using the new technology and the earlier measurements.
** N.B. Thus, his re-branding in the European tradition as Santa Claus, a derivation of his name in Dutch: Sinterklaas
*** The three-ball symbol of the pawn shop is said to derive from these three bags of gold.
Here's a brief biography/documentary: