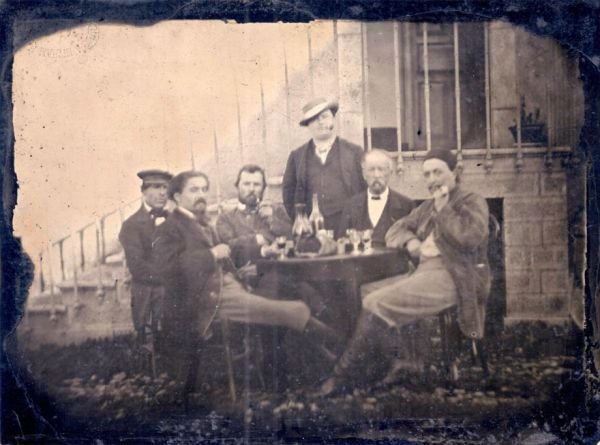 JULES ANTOINE (1863-1948) ATTR. – Vincent Van Gogh in conversation with friends, Paris, 96 rue Blanche, December 1887 Melanotype, direct positive and reversed image on blackboard (carton photographique), 86×112 mm, "Gautier Martin" stamp, recto. Vincent Van Gogh in conversation with Paul Gauguin, Emile Bernard, Félix Jobbé-Duval. André Antoine is standing between them.
Some experts believe this recently discovered 1887 tintype showing six men drinking around a table may include a rare sighting of painter Vincent van Gogh. He was known to abhor photography and supposedly never sat for a photo as an adult.
Only two rare photos of the artist as a child are known to exist, taken when he was 13 and 19 (see below). More from Colossal:
The photo went to auction just this weekend and was expected to fetch between $136,000 to $170,000, though a final sale price hasn't been made public. Still, some experts aren't convinced. The photo expert for the Van Gogh museum in Amsterdam feels it can't be the artist "because it simply does not look like him," and also mentions the artist's desire to never be photographed. Others note that Van Gogh didn't mention the gathering in his meticulously written letters from the time period.
And age 19:
More famous, of course, are his self-portraits:
Self Portrait 1889
Self-Portrait with Bandaged Ear, 1889