Pieta, St. Peter's Basilica, Vatican City
The marble not yet carved can hold the form
Of every thought the great artist has.
I have only too much of a wife in this art of mine, who has always kept me in tribulation, and my children shall be the works which I leave, which even if they are naught, will live for a while.
~ Michelangelo (in answer to being asked why he had not married and had children; in Vasari,
Lives of the Artists
)
All his statues are so constrained by agony that they seem to wish to break themselves. They all seem ready to succumb to the pressure of the despair that fills them.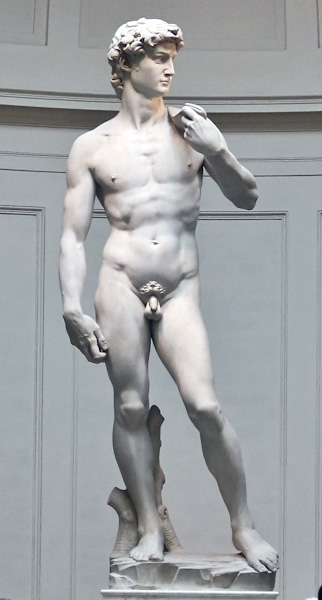 David, Galleria dell'Accademia, Florence
Today is the anniversary of the birth of Italian painter, sculptor, architect, and poet
Michelangelo Buonarrotti
(1475-1564) (
wiki
), arguably the greatest artist who ever lived. Born in Caprese, Michelangelo apprenticed under the painter Ghirlandaio but then developed his art under the patronage of Lorenzo de Medici in Florence, later departing for Bologna and Rome. In the latter, he produced his sublime
Pietà
before returning to Florence in 1501, where he created his colossal David.
Ordered back to Rome in 1505 by Pope Julius II at first to begin work on the pope's tomb, Michelangelo, was instead commissioned to fresco the ceiling of the Sistine Chapel, which occupied him between 1508 and 1512. (He would paint his startling Last Judgment on the end wall of the Sistine Chapel two decades later.)
Many of Michelangelo's most celebrated works were sculpted for the abortive Julian monument and the Medici Chapel in Florence between 1515 and 1534, but at the same time, he produced a series of celebrated paintings, such as the Conversion of Paul and The Martyrdom of Peter. Late in life, Michelangelo was named the chief architect of St. Peter's basilica in Rome and was largely responsible for the present dome. His verse includes lyric poems, madrigals, and sonnets, some of which have been set to music by composers as diverse as Benjamin Britten and Dmitri Shostakovich.
From the sublime to the mundane, he was still an artist - below is one of his surviving grocery lists (via
Open Culture
):
"Because the servant he was sending to market was illiterate," writes the Oregonian's Steve Duin in a review of a Seattle Art Museum show, "Michelangelo illustrated the shopping lists — a herring, tortelli, two fennel soups, four anchovies and 'a small quarter of a rough wine' — with rushed (and all the more exquisite for it) caricatures in pen and ink."
Related posts and links:
NPR has translated
Leonardo's To-Do List.