Roused by the lash of his own stubborn tail
Our lion will now foreign foes assail.
~
John Dryden
(
Astraea Redux
)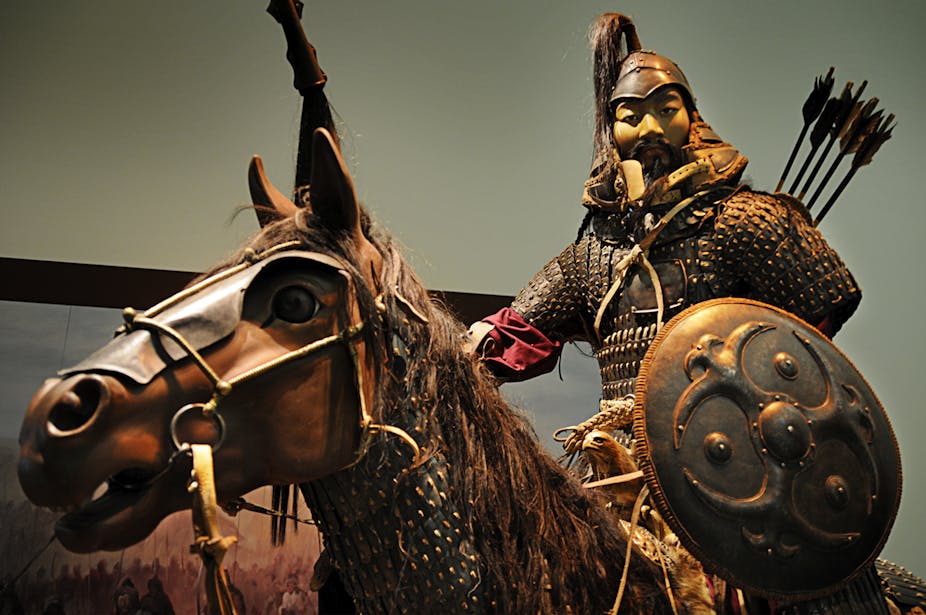 Heaven has abandoned China owing to its haughtiness and extravagant luxury. But I, living in the northern wilderness, have not inordinate passions. I hate luxury and exercise moderation. I have only one coat and one food. I eat the same food and am dressed in the same tatters as my humble herdsmen. I consider the people my children*, and take an interest in talented men as if they were my brothers. We always agree in our principles, and we are always united by mutual affection. At military exercises I am always in front, and in time of battle am never behind. In the space of seven years, I have succeeded in accomplishing a great work, and uniting the whole world in one empire.
The greatest pleasure is to vanquish your enemies and chase them before you, to rob them of their wealth and see those dear to them bathed in tears, to ride their horses, and clasp to your bosom their wives and daughters.**
One arrow alone can be easily broken, but many arrows are indestructible.


~Genghis Khan (variously attributed)
Today is the anniversary of the death of
Genghis Khan
(
wiki
) (ca. 1162-1227), the founder and emperor of the Mongol Empire, the largest contiguous empire in history. Born in the Khenti Mountains of modern-day Mongolia, Genghis rose to power amid a grouping of warring tribes in northwest Asia and eventually united them into a powerful nomadic army that conquered most of the Chin empire of northern China (1213-15). Subsequently, from 1218 through 1224, he subjugated Turkistan, Transoxonia, and Afghanistan and raided Persia and eastern Europe. (For a generation after his death, his sons and grandsons pushed the Empire even farther, but ultimately, it fractured into several khanates and faded away.) Genghis Khan was one of history's most inspired - and ruthless - military leaders, yet he is buried in an unmarked grave at some unknown location (Why
Genghis Khan's tomb can't be found
). At one point in his ascendancy he is said to have remarked,
"Conquering the world on horseback is easy: it is dismounting and governing that is hard."
Conan, not Ghengis
**This is the origin of the similar line in
Conan the Barbarian
(
musical version here
): when Conan is asked what is best in life, he responds. "To crush your enemies, see them driven before you, and to hear the lamentation of their women."
Genghis Khan, the fearsome Mongolian warrior of the 13th century, may have done more than rule the largest empire in the world; according to a recently published genetic study, he may have helped populate it too.
An international group of geneticists studying Y-chromosome data have found that nearly 8 percent of the men living in the region of the former Mongol empire carry y-chromosomes that are nearly identical. That translates to 0.5 percent of the male population in the world, or roughly 16 million descendants living today.
"Over the course of the century and a half run of the Mongol Empire, about 22 percent of the world's total land area had been conquered and an estimated 40 million people were slaughtered by the horse-driven, bow-wielding hordes. Depopulation over such a large swathe of land meant that countless numbers of cultivated fields eventually returned to forests."
Not sure why they left out Stalin and Mao.